Cricket Cares - 2007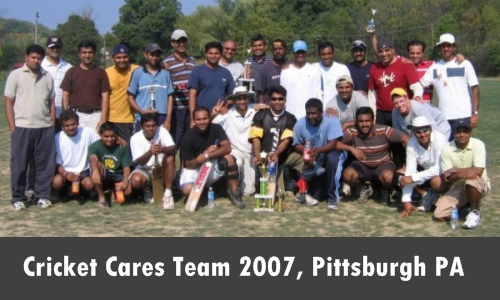 In association with the "Pittsburgh Cricket Association", Cricket Cares conducted a Tennis Ball Double Wicket Cricket Tournament to raise funds for an Indian Charity (Helping Hands). "Udavum Karangal" or "Helping Hands" is a place that has grown out of one man's dreams to be able to serve all those in any kind of need. Vidyakar or 'Pappa' as he is known to all those who look to him as their saviour, is a man with a mission. He was orphaned when young in Mysore, and was adopted and brought to Madras when he was thirteen. This change in his life gave the young boy the kind of teenage years that he may otherwise not have had. In his gratitude, Vidyakar remembers the words of his mentor. "Help others as I helped you." Vidyakar has carried this message with him, and lived up to it. For more information visit http://www.udavumkarangal.org.
Goal for 2007:
Raise funds to sponsor a child.
Create awareness about cricket in pittsburgh area.

Photo Album : Cricket Cares 2007